Search 30+ years and 70,000+ Direct Mail Campaigns in One Easy-to-Use Platform
Who's Mailing What! makes it easy to study effective sales letters, postcards, fundraising packages, self-mailers and more. Explore the creative and offers that have worked for hundreds of top companies today.
Put this massive archive to work for you! On your computer, tablet or smartphone, you have at your fingertips 30 years of direct marketing intelligence.
Direct mail: Tap into the world's most complete library of direct mail samples
Sales Letters, Postcards, Flyers and more: Over 70,000 real examples, with weekly updates
Gain Competitive Marketing Intelligence
Want to study the marketing approaches of your company's top competitors? Need some new ideas for your next marketing campaign?
Eureka! You've found the source. In one easy-to-use platform, you can do all of the following:
Nothing like this exists anywhere in the world from any source at any price!
Search across one of the 21 major industries, or drill down to over 85+ sub-categories
Study the creative approach across channels
Examine the offers and special deals to better craft your own efforts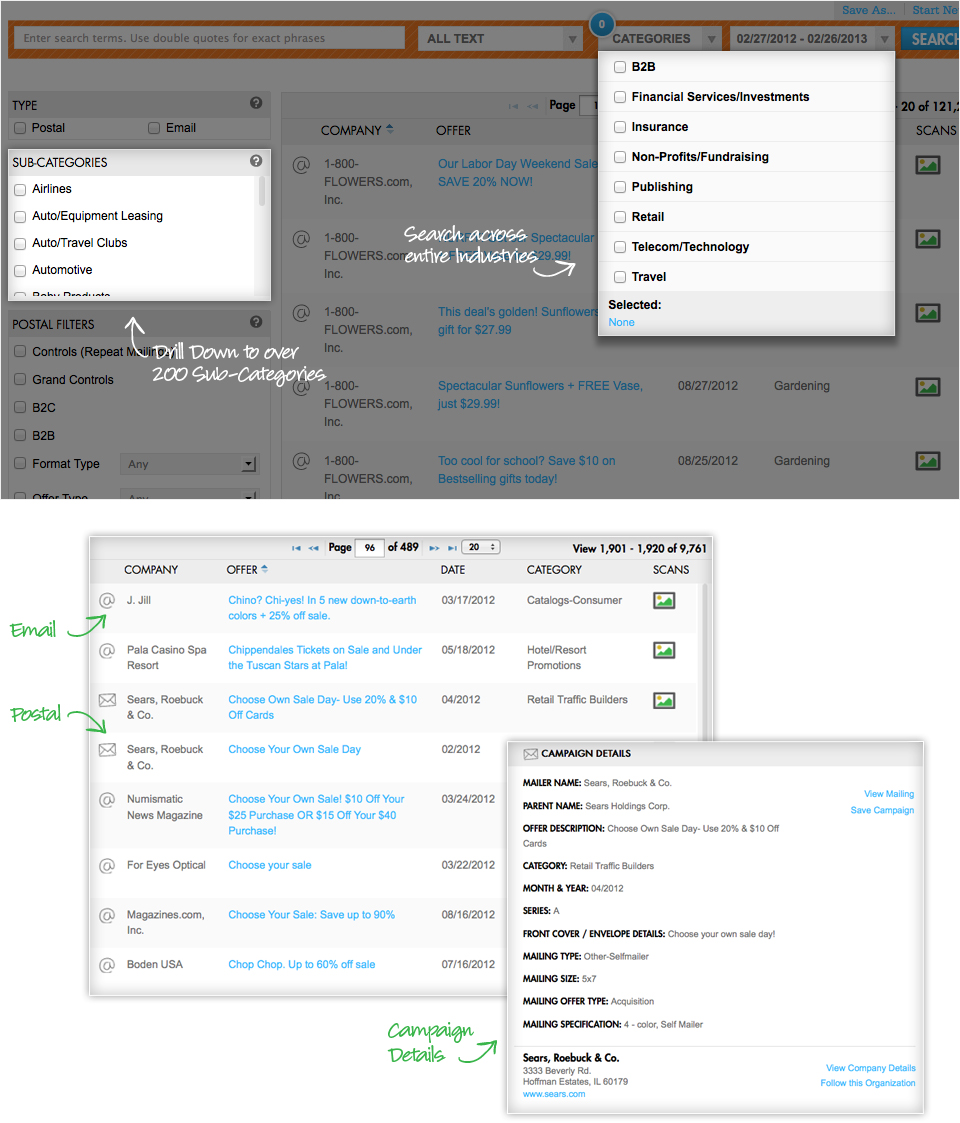 A Picture is Worth a Thousand Words
See the actual direct mail and email campaigns, and then save the PDF examples right into your library for creative inspiration.
See what headlines, mail formats and offers outperform
Examine eye-catching, response-getting design for envelopes, inserts and brochures
Check out effective envelope teaser copy and headlines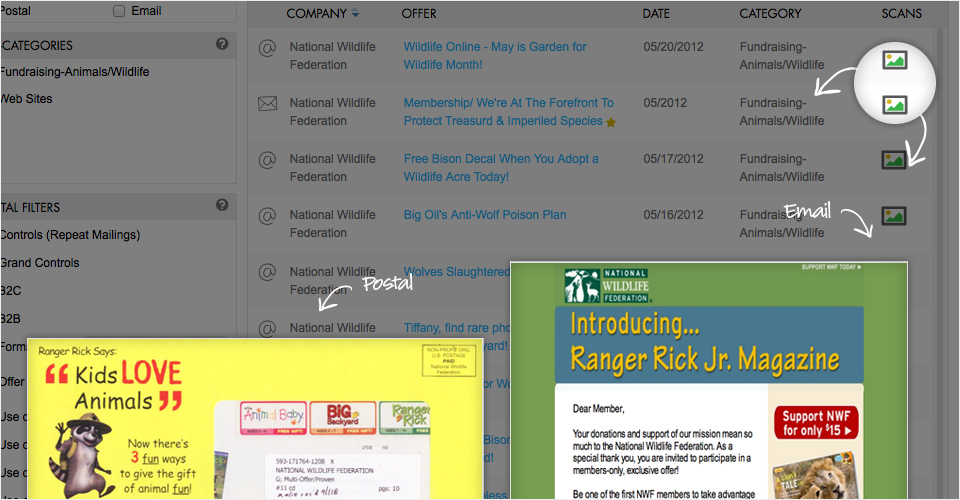 Follow Your Favorite Companies
Are there specific companies you want to investigate? Perhaps they're your company's competitors or leading-edge
marketers whose great creative you want to keep on your radar.
Study the creative approach across physical mail formats and get new testing ideas
Examine the offers and special deals to better craft your own efforts
Learn more about each company, including key contact information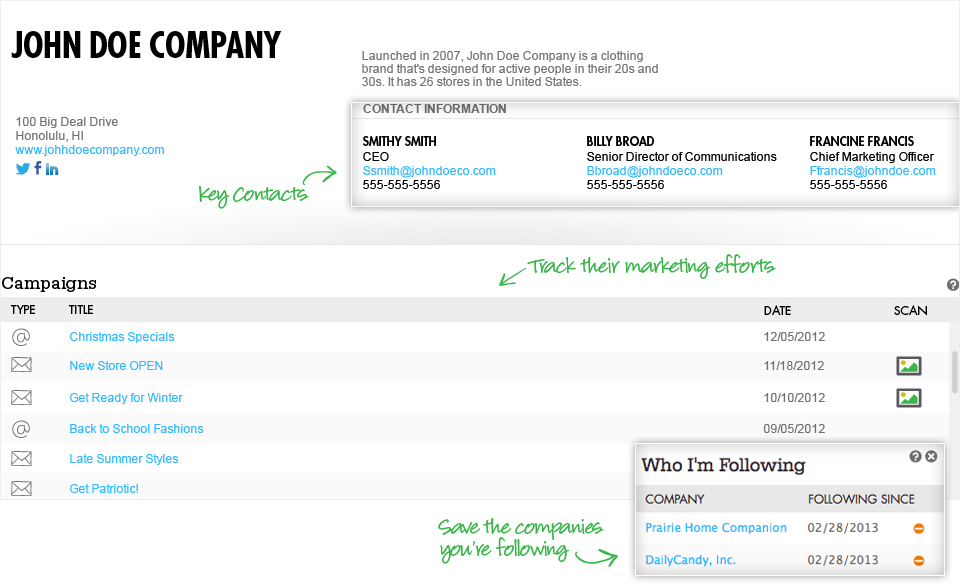 Get More Granular
Refine your searches with multiple filters. Finally, here's an easy-to-use solution that allows you to search for the specific details you're really looking for and that best serve your needs.

Actually See What's Working
Not sure which marketing efforts are worth studying?
Who's Mailing What! takes the guesswork out of your research by tagging those efforts that have been received before — the controls! These are the campaigns that are working and are worth their weight in gold.

Better Than Ever
Who's Mailing What! is capturing more new direct mail pieces than ever before. Now you'll be able to keep up with the latest trends and most effective creative ideas in the industry.
Who's Mailing What! is undergoing a number of changes and improvements before we relaunch, but you don't have to wait. Schedule a no-obligation demo now.
Brand New!
Wyzoo is bringing a new feature to Who's Mailing What! Using Artificial Intelligence, we're marrying the 1.2 terabytes of Who's Mailing What! data with our own dataset of 1.4 billion U.S. consumer characteristics in order to help predict "Who's Inspired by What!"
Once Who's Inspired by What! is fully operational, you'll be able to leverage the power of predictive analytics to see which type of creative will be most suitable for your direct mail project.
The future is looking brighter and brighter for direct mail marketers who join Who's Mailing What! Sign up for your demo now.
Contact Us
116 West 23rd Street, Suite 5
New York, NY 10011